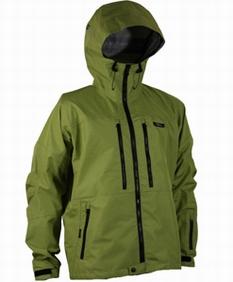 Review of jacket Mill Technical
Insert: 01.12.2010
Selection of functional clothing for skialp / freeride is quite limited here. Additionally if you want to buy things "Made in China" or spend lot of money, you haven't many choices. Mill Company (www.mill.cz) from Brno, Czech Republic, have his jacket Technical with highest demands, it's made in CZ us and costs (hopefully) reasonable amount.
Technical is made of three-layer Gelanots XP3L, which is Japan's Tomen membrane (Toyota). This membrane is very different from conventional materials like Gore-Tex, because it is not a porous fabric. Vapor permeability is provided by hydrophilic material and the waterproof by outer fabric impregnation. This eliminates the problem by clogging the pores and loss of function after years of use.
Mill holds the best classics in cut, so don't expect any "nigga" style. This model is not insulated, therefore it's suitable for people whose looking for really technical jacket. Great cut have the sleeves, when their shape really brought to perfection. Hood is increased compared to last year's model, as well as the collar was lifted, so now they cannot be above reproach. Also the snowcatcher is very well done, there is no way to let snow in. Of course there are waterproof zippers, underarm ventilation and one-touch compression where you remember!
This year's model has 5 pockets, 2 large cargo pockets on the chest, two at the waist and one on the sleeve. Pockets for hands I would gladly give up personally, but if you want to hide your hands from the weather, it is any better. Cargo pockets have enough space on the map, GPS and walkie-talkie, just you can put in them anything. Access is possible without problems even with gloves. Pocket at the end of the sleeve is cool gadgets for use with ticket, when you aren't limited by orientation of the reader.
I used this jacket all last season in a variety of situations and I must say I was very pleasantly surprised.

No problems when I was braking on a tree or stone and all stood waterproof. The breath ability seems better then Gore-Tex for me. As a disadvantage I see pocket for hands, where their absence could be done larger cargo pockets. Furthermore, I did not suit the lack of mutual main zipper. Price approx 5.600CZK certainly not the lowest, but you will high-quality jacket for that money!
Author: Tom Nováček