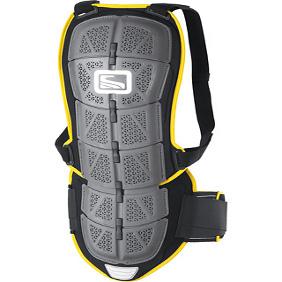 Protectors
safety always at first place
Insert: 27.01.2011
In the technet section you could have already read a lot of information about avalanche gear – beepers, shovels, probes, ABS/Snowpulse backpacks. We´ve also given you some hints how to put skins on skis. Until now you couldn't find any information about a very important part of freeriding – protectors. So today we´re gonna fix this and we will get you some basic facts about this kind of equipment.
The most important part out of everything, whatever you are on skis or snowboard, is a helmet, no doubt. But this subject is too big to be in this chapter, so we ´re going to keep it for a separate article for next time. Today we look into back and pelvis protectors.
Upper body protectors can be divided into two main groups – back protectors and body armour. As you can probably guess from the name – back protector is here to protect our back – spine. It consists of few panels that provide a comfortable movement. The main function of these panels is to split the impact energy into as big as possible area (your whole back) and therefore prevent fracture. There´s loads of back protectors on the market, some of them only protect your lower back (usually just three panels), other will cover your whole spine and coccyx (tail bone). There´s also few different systems to put them on your back and it´s just up to you, which one will you choose. However, the most important thing is, to choose the one that fits you the best and doesn´t limit movement of your body, so you better try a few on, before you buy one! Apart from these protectors, you could find backpacks with build-in back protectors. If you need both backpack and back protector, with this variant, you could find yourself in a win-win situation!
Second, a bit more complex group of body protection is a so-called body armour. With a little exaggeration, you could assimilate this to a knight armour – the difference is used material – it´s not metal, but plastic. It covers not only your spine, but also your chest, shoulders and elbows. Another good thing about it - doesn´t only protect you more, but at the bottom of the lift you could show off around with your "fresh-off-the-gym" muscles :-)! Well, there´s also a few disadvantages against the usual back protectors – the air-ventilation (you sweat more and quicker) and your movement is a bit more limited. Same as with the back protectors, the variety of this protection on the market is wide with lots of different producers. It is also very important to try it on, before you buy one, because it really needs to fit you perfect.
The last protector, that we´re gonna look at is a so called "ass protector". It basically looks like your average boxers that are filled with stiffeners to protect your pelvis. There´s usually more stiffeners in hip, tail bone and thigh area. And again... there´s load of ass protectors on the market that differ from one to another producer. It´s up to you to choose THE one.
Some of you may think that this kind of equipment is useless, but believe, that these kinds of protectors have saved many of skiers/snowboarders from a terrible injury and to some of them even saved lives! You should always keep on mind, that you should never be stingy on equipment that helps protecting you...
Photos of:

661 vapor, SCOTT back protector,
Zandona Corax PRO,
SCOTT shorts protector