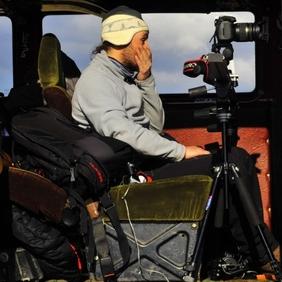 How the life goes with Tomáš Galásek
Insert: 11.05.2013
Please do not ask me how long took me to place this interview on our website. But anyway it is here. I am really glad that I can say I know Tomáš Galásek, because he is a man who does things with full enthusiasm and heart. So following article is purely dedicated to Tomáš. Check it out!!
The very first question of this interview should sound like "Hi Tom, how about to begin with introduction to people who do not know you?" Hmm it is stuffy question. Tomás has already introduced himself by many shorter and longer films and traveled all around Czech republic with them. For those who do not know, Tomáš is kameraman, director, traveler, artist, snowborader, skier, and man with heart at the right place.
What led you to filmmaking? And I do not just freeride, windsurf or BASE jump. Lets talk somehow general.
So let´s make it short. I have met filmmaking indurstry a bit later in my life. After high school in the field of engineering I went abroad to experience what life is about. So I jumped into Israel to wash dishes and clean up cigarette butts off the beach, then I found myself in US, where I have to change to the floor cleaner and I began to learn English intensively. I joined the English course for immigrants and they took us on a trip in high school, we saw how beautiful the US are. And there I opened the huge iron gates, behind which was a television studio, which immediately captivated me. I've found that I can study at school, even though I am not a U.S. citizen and so it began. After returning from US for me was the film school obvious choice because I found what I was looking for. Work that gives my life meaning happiness.
I know that you spent a lot of time filming extreme sports. Why this direction?
The sporty documents I enjoy the most. It's the direction I went, and where I want to continue. I like the fact that it is the work associated with travel and fortunately mostly with good people. And that, I found myself in extreme sports kind of happened. Just like that. At first I wanted to shoot skateboarding that were close to me from my youth, but later I understood that it is necessary to search for sports which are somehow special and most of people do not have balls for them. And I was lucky that I met Martin Prášilová right after school, who introduced me to Robin Kaleta. He had planned to make his BASE jump project, which eventually became our first sports film "Knocking on Heaven's Door". Robin is mainly freeride skier, so de facto thanks to him I got to freeskiing. When shooting I meet more and more new people who do other extreme sports again and so we shoot and shoot ...
What equipment do you use for your shooting?
At first I was carrying to the mountains camera Canon XL 2, which was unenviable. It was big and heavy and I had to ride with a huge backpack. Pull and pack it back always took me forever. Fortunately, those times are gone. When came cameras that can also shoot video, in HD resolution, I started using the Canon 7D. As for lenses, you thus gain something different, whether bazaars or somewhere I can find or get (here I just wanted to thank "guys from Řeka" for a new lens Jupiter 135). And I would also urge readers that if they have some old and unused lenses, so I know what to do with them :-) Definitely it would deserves to have better technique, but at the moment most of my money I earn go back to other films that could possibly see the daylight. Then I have such a deviation, and it's still a little self-help produce. This gives rise to a variety of rails, hangers and similar gadgets for filming. Actually, I'm glad for my little tripod for camera which I climb up a face and can also have a nice line down.
Do you have a model in the film industry? Someone from whom you are taking strength and inspiration? Maybe you would you like to recieve an advice from somebody?
Sometimes some images appear from which I take inspiration and they kick me so that I have a desire to go shoot something immediately. But a pattern to which I looked up, I do not have any. Rather, I try to find my own style.
You're the director and cinematographer of freeride movie White Line. Why did you decide to make this film? When the impulse came and what were the circumstances of White Line idea to raise?
When I once drove from SNOWfest with a crew from Řeka(still I swear that I did not pulled the camera, because it was really iconic return from the mountains :-), so I was wondering how the world freeride diverse. It is not only about beautiful lines in powder, but mainly about people who stand on the skis, their attitude to skiing and to the mountains. Find such freeriders who are excellent riders, but also contradictory and interesting personalities was not so tough I thought. At first it all seemed like a nice idea, to realize within one year, they were all excited and wanted to go for it. But then came the problems. First, some people somehow did not fit into our group, then winter came, which was rather a parody of winter and we could make almost anything, fundraising was also a tragedy ... but finally, after three years, we have managed to put together a White Line film and I am happy about it.
What was the hardest during shooting of the White Line? Was there a moment when you said that you will pack it and leave?
We could not quit. It was a heart project. Most probably I will not work so intensely in my life. When do you dedicate so much time and energy, so despite all the problems it was not possible to say: "I quit and I will not finish this". Probably the hardest part was the fight with the weather. This sport is incredibly dependent on optimal conditions, which unfortunately usually come when you're not with the camera in place and you want to shoot. Then the gear often betrayed us. For example, when we were shooting the Simča Hrstková in the Swiss resort - Les Diablerets, we managed to shoot some beautiful shots, but there was a problem during data converting. I did not check the backup and after a year I found out that all the shots are completely lost. Which Simča it hurts twice because to meet this girl in the Czech Republic is a miracle.
Did you shoot at a resort, a mountain, a place where you really want to go back? Whether with or without a camera?
All the places I had the opportunity to visit had their magic, whether more or less. But for me the East is the best. Not so much because of riding, but mainly because of the unforgettable atmosphere, and especially if you go there with a guy like Jirka Lausecker who knows the location.
Do you have any new winter project in your mind or you'll shoot only summer sports?
Now I'm running to the South to shoot windsurfing. Thanks to our production manager Martina, which is dating for many years the master of wind Malini (Tomáš Malina), we decided to shoot Czech windsurf film. It will appoint Without the Sea and I'd rather not being troubled when the film sees the daylight, as well as with the filming freeride, even winsurfing shooting will be under wather control. Ask whether I will ever make a film about freeride skiing is not difficult to answer. Definitely it deserves to continue, I would like to. After all, again I know more, I met some new people. But I certainly would have never done such an extensive project like White Line by myself.
Is there anything you want to say as a conclusion or a message to people who are reading this article?
Enjoy life, you only have one.
Author: Jirka Zelinka