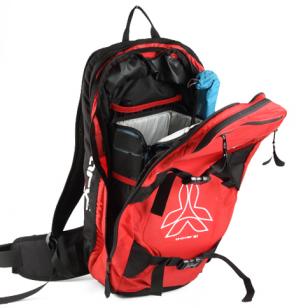 Backpack for photographer with ABS
Home upgrade ABS for photographers
Insert: 26.02.2012
Anyone who is moving in backcountry a bit more have experienced some sluff or even an avalanche. Just when you see an avalanche you start to wonder if it would not want a support tool to improve safety in mountains. There are several ways, but probably the best is a backpack system with inflatable bags.

There are two manufacturers at the market - ABS and Snowpulse. Comparisons were published last winter. Every each of them has a different system. More details can be found HERE. I do not want to discuss the princip of the backpack here. I want to focus more on product ABS. For some time I am dealing with how to get my camera into the ABS backpack. Some attempts I have attended and discovered:
Solution 1:
ABS backpack 30L + manualy finished pockets for the camera - it worked, but the problem was that the size of the backpack and its weight did not meet all my requirements. Backpack itself was a large, poorly accesible pockets inside, qu ite heavy and bulky.
Advatages:
+ ABS on the back
Drawbacks:
- huge backpack
- bad manipulation with camera
- uncomfortable wearing of the backpack ifself
- weight
Solution 2:
I subsequently exchanged my backpack for ABS Freeride, which is actually only ABS system with straps over the shoulders. Since I use an older model of Burton AK 28 (hereinafter referred to as AK) for photographers, so I was wondering how to get ABS on my current backpack. After careful consideration, I had straps and cut off all the different elements. Then make small holes in the bag, I stretched them straps from AK, which is attached to the snowboard. Using dry zips and Chemopren (special glue) I solved mount ABS triggers. Everything can be assembled and disassembled in a few minutes, it's not complicated. However, I was using this whole season last year and some problems occurred.

When I put the backpack at my back, the left strap risked bad, because the ABS trigger is quite high. Another problem was the width of the bag itself. Already AK itself is quite wide and when it is with another 10 cm ABS, it's big bitch. The actual weight was, without camera, around 4.5 kg. When I added shovel, probe, camera + lenses and some odds and ends, so weight was somewhere around 7-8 kg. And that's really a lot.
Advantages

:
+ very fast addition of ABS to backpack
+ photo backpack – no need to add anything photo related
+ possibillity to add gear: stips, safety pack, water bottles.
+ cool and quick system how to pull out the camera
Drawbacks:
- weight
- width
- backpack is a round and i tis rolling down the slope when it is on the ground
- when ABS on the backpack it is a bit hard to put it on the back
- ABS freeride itself is not possible to use again, the straps are cut off.
- NOT certified and NOT tested ABS system. ABS has been changed
Solution 3:
The last solution came with a good offer for the purchase of ABS Vario and finding that this backpack can adjusted by the second part of the pocket. These pockets of backpacks are produced by several manufacturers, including Arva, which makes nice designs and things are quite functional. Of course, I searched for a longer time, how individual pockets from different manufacturers look like and I just decided to choose Arva Xover 18. This product is not designed for photographers, but its construction directly encouraged to make adjustemnt for photo purposes.I cut the top pocket and put into the case from Lowepro ( next time LP) designed for cameras with telephoto lenses. There is no need the extra adjustment, I just had to use the LP Chemopren (glue) and stick the velcro. LP pocket after adjustments weighs only about 300 grams and can hold b asic camera lens plus wide lens. Or I could put my camera with telephoto lens. All 3 lenses I never carry at once, I choose lenses according to weather conditions. Thus modified backpack I placed a new carbon Arva shovel (weight approx 300g) and the probe. But that is all. You cannot fit more thing into the backpack. I can definitely admit that finally ABS does not destroy my back by its weight and feel safer in the mountains. The weight of the backpack is approximately 6 kg without second lens. If you try, that there is no avalanche danger, you can quickly throw back away and switch back to the original Arva backpack. Then is about 3.2 kg lighter.
Advatages:
+ width
+ weight
+ adeptness during riding
+ easy to pull out the camera
+ ossibillity to change the back from Arva Xover18
+ nice look
+ possibillity to use Xover back with pack for another activities (without ABS)
Drawbacks:
- no space for proper shovel (using small shovel)
-no posibillity to carry other safety equipment (firs aid kit)
- bad fasteners on the Xover 18
- safety connection of the backpack - paralel system of two metal clasps
I understand that all the modifications described above are more or less "home made " (finish them at home). But what you do when the manufacturers of the backpacks do not care about photographers? Perhaps someone will find some who gonna find out a version of the top pocket, which will have a capabillity to add the ABS Vario or another variant of the backpack for photographers using avalanche air bags.
Author of all home upgrades: Martin Klika