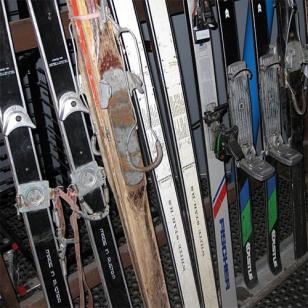 What bindings for freeride to choose.
What is good to know before you get one of those.
Insert: 17.10.2010
Most brands which produce ski bindings offer vast range of models designed for freeriding. Some of them are specialized just for bindings intended for freeskiing. In this article we will take a look, how to choose bindings for free terrai

n.
One of the most important factors on bindings in general, not just for freeriding, are the values called DIN. They determine the range of breaking forces which determines how the string and tight the binding is in order to keep you boot stick to the ski. For riding off slope is common to use a binding adjusted on maximum DIN value about 12 to 18. Binding with a range up to DIN 18 is quite extreme for me. Those kinds use especially racing skiers who need to stay on the skis no matter what is going to happened, such as on huge drops in high speed. Most skiers are fine with DIN up to 14 or 16, lighter riders even 12. Generally, the binding works best in the middle range of its values. It's good to get a binding with a higher DIN value than the DIN you are gonna actually ride on. The setting is certainly difficult to find a compromise between the skis turns off unnecessary and on the other way when the ski should turn off in case of heavy fall which can coz a risk of injury. Over time each of us has to test what value suits to your personal riding abilities.
In case you don't have a snowmobile or helicopter parked in your garage, then you might want to take a look on a binding that can do both I mean or downhill and touring. If you don't put your skins on very often and you want it to withstand rough handling, you will appreciate the robust construction and to the prejudice of some few hundred grams. They are basically heavier and stronger version of ski alp binding compared to them there is paid more attention to better durability and riding comfort. It's up to you what the ratio between driving and walking will suit you. If lightweight primarily designed for walking up the hill or focused on downhill or just for occasional hike.
Another option will be appreciated by those who do not want to do any compromises in riding, but still would occasionally need to hike somewhere. For those there are various adapters for binding (such as BCA Alpine Trekker, Secura Fix etc). These adapters you just easily snap into your binding and suddenly you got a touring binding. They take you another place in a backpack and on the other hand comfort in walking could not be so special. You also need to check if they are compatible with your bindings, not all of them will fit.
Let us also not forget on the brakes, which are part of every ski bindings. Manufacturers count on the fact that powder skies are not some toothpicks. So thus we come across with a range of brakes from 100 to 150mm wide, but sometimes you need to buy them separately. In this range everyone will choose according own skis.
What brands to choose from? A number of models designed for freeskiing, both classical and combined (walk/tour-ride) offer brands like Marker. Favorite bindings are also Look Pivot in recent years, produced under the brand Dynastar and Rossignol. Other manufacturers are Salomon, Tyrolia (now owned by Head) and many others. The tour binding are aimed brands like Fritschi, Dynafit or Naxo. There are a lot of model out there so you have a lot of range to choose from.
Manual on how and where to mount bindings and lots of other tips you can find out in the previous article at: http://powderline.cz/detail/cs/technet/montaz-vazani/
Text: David Sedlak