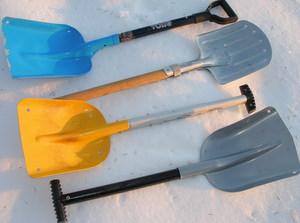 Avalanche equipment - shovels
You need to dig deeper
Insert: 25.11.2010
A short time ago you could read on powderline basic information about avalanche transceivers. Today we would like to build on this article and write some information about other necessary avalanche equipment – shovels.

Maybe you say, how can man spoil the selection of an avalanche shovel, but it is important to take care about some basic things. First, have a look at the material which is the shovel made from. It is true that most of them are made of high quality aluminium material but there's also a couple of plastic, which aren't so appropriate, because the plastic isn't as strong as aluminium, so you could, when digging from a frozen snow, have a problem – it is possible that the plastic shovel breaks. Another important factor for selection of a shovel is well-fitting handle. This is pretty subjective thing, so first try the shovel in reality before you buy it. Finally, there is important the storability of a shovel, to put it good in a backpack.
So let's have a look at a couple chosen pieces:

Ortovox Grizzly 2
Weight: 790 g
Shaft length: 56 cm
Blade size: 28 x 21 cm
The advantage of this shovel is collapsible shaft, so when do you need to assemble/diassemble, there's nothing to take off, just to tilt the shovel. This system also facilitates the rebuilding of the shovel to a hoe.
Ortovox Professional
Weight: 720g
Shaft length: 46/71 cm
Blade size: 30 x 23 cm
Ortovox Professional is used in CR and Slovakia and also in Czech army. It has a telescopic removable shaft. Again it is easy to rebuild it to a hoe.
BCA Tour
Weight: 454 g
Shaft length: 63/88 cm
Blade size: 30 x 22 cm
Really simple and functional design. This shovel shows, that not only a plastic shovel is light.
Pieps Tour
Weight: 541 g
Shaft length: 60 cm
Blade size: 22 x 34 cm
Another representative of simple shovels. Pieps Tour has a standart 60cm shaft but you can buy telescopic. Weight is again very low.
Black Diamond Deploy 7
Weight: 700 g
Shaft length: 68 cm
Blade size: 31 x 25 cm
Very space-saving shovel, thanks to unusual shaft retraction like "through the shovel" (folded shovel has only 46 cm).
ARVA Eco
Weight: 490 g
Shaft length: 36 cm
Blade size: 28 x 21 cm
Disadvantage of ARVY Eco is non-telescopic shaft, but this absence is compensated with a very competitive price.
ARVA Mini TELESNOW
Weight: 620 g
Shaft length: 27/43 cm
Blade size: 23 x 23 cm
Very durable three-part shovel ARVA Mini TELESNOW, which takes minimum space in your bag. Simple functional design.

ARVA SHARK
Weight: 680 g
Shaft length: 28/45 cm
Blade size: 29 x 24 cm
Advantage of SHARK is shaft, which you don't have to attach/detach for every use, it's enough to puch in/pull out from/to shovel blade.
In conclusion I just say that this couple of shovels is only a fraction of what you can get today. Individual representatives should serve an example of differences between manufacturers/models. I wish you good luck with your choice.