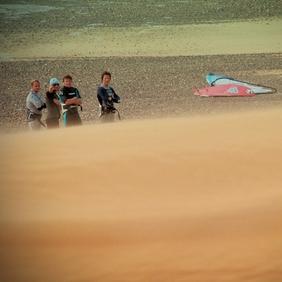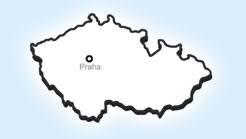 Without the sea
Czech windsurfing movie
Insert: 28.10.2013
New movie made by Alternative.Now following previous successful documentary White Line which is mapping lives of the best Czech freeskiing riders with the fact that even if all of them are living different lives they all have the same passion: freedom in fresh powder. The premiere of the White Line movie was in October 2012 with many worldwide awards recieved since. Screening in Ostrava on 31.10.2013 at 19:30 inside Stará Aréna.
The idea to make first Czech windsurfing movie came from the director Tomáš Galásek already during filming the White Line early 2012. Tomáš needed change. He wanted to leave mountains and escape to warmer place full of sun and sand. He found out very soon how far is the real windsurfing from his imaginations.
The main characters are tree young men for whom windsurfing became lifestyle.
Tom Malina is one of the most successful windsurfers in Czech Republic who started with the board and sail already almost 20 years ago and he is one of tree windsurfers who represented Czech Republic at the Olympics in the past.
Tom was born in Chomutov and his home spot is lake Nechranice where is his windsurfing base and club.
Amongs his greatest achivements includes participation at the Olympic Games in Athens 2004. Afterwards he moved to PWA (Professional windsurfing association) to compete in slalom discipline. Thanks to his sponsors is Tom truly professional and he is travelling all year long for competitions. But when he has little bit of time he is searching for good waves to go waveriding which is queen of all disciplines.
Tom is graduate lawyer as well and he is partly working in this sphere. His slogan is: " Life is beautiful and we have to enjoy it "
Petr Kabát was born in Klatovy where he started with windsurfing at age of six. He was practicing windsurfing together with his parents at lake Hnačov. But he started to push more twelve years ago when he discovered freestyle windsurfing. During the summer time Peter is coaching golf in Golf club Olomouc and he is participating in czech pro-golf tour as well. His windsurfing home spot became lake Nové Mlýny where he was working as a windsurfing instructor couple years ago Windsurfing is for Petr everything he loves. It means sport, travelling, fun, friends and adrenalin. He loves water and waves which make him relaxed and they are recharging him with positive energy. He adapted his live to be close to the water as much as possible so he is working only during the summer and for the winter time he is travelling for windsurfing all over the world. Windsurfing means for Petr breaking the boundaries and his limits. No freestyle trick he wants to learn is so difficult as it seems at the beginning. As soon as he is done with it he goes for another one and another one...
Martin Ovsík is one of the most talented Czech wave sailors. Thanks to his radical style he has big potential to success in the future on PWA tour. Martin was born in Klatovy with his first windsurfing experiences on lake Hnačov the same lake as Petr. His biggest achievement is every new windsurfing move in waves he can learn. When he has little bit of time he is doing wakeboarding as well which helps him to be better in waves. Because Martin spends most of the time on Tenerife island together with studying at the University travelling is part of his life. That is why he doesn't have much more free time.
But when it happens he likes to go skiing, BMX riding or just walking with his dog and fishing. Martin is not affraid to try new things and sometimes it hurts a lot. As he says: " I love sailing in extreme conditions because it makes me much more experienced and I can merge with the nature.
Because of Czech Republic doesn't have sea most of the footage was filmed in Germany, Holland, South Africa, Morocco, Spain, Italy and Tenerife Island. Thanks to our cooperation with Olympus and GoPro together with filmmaking skills of Tomáš the spectators can enjoy unique shots not only from water.
And why does it worth to watch the movie?
Tom: " because we jumped into the unridden Czech water and after one year of hard work I hope we made movie not only about windsurfing action but about people's life stories as well ".
Petr: " Without the Sea is movie which captures real life of Czech people for whom is windsurfing more then sport. Then is mapping windsurfing disciplines which are very popular these days showing their positives and also the negatives. It is showing not only perfect windsurfing sessions but the bad ones as well.
Martin: " It is first project his kind in Czech Republic which could be the first reason why to watch it. I think that not only windsurfers might like it but also people who loves pure nature and different culture.
…and because they put all in!
News, screening in other cities, TV coverage and other information about the movie check on www.facebook.com/WithoutTheSea